Mauviel M 150s Universal Copper Lid
Heritage M 150s Universal Copper Lid by Mauviel.
Copper Lid for all Mauviel coppper items.
The M'Heritage M'150s collection from Mauviel has a shiny copper finish.
Mauviel: French Design French Made.
Heritage M 150s Universal Copper Lid by Mauviel.
This Mauviel M'150s copper universal copper lid with cast stainless steel handle represents the height of French kitchenware craftsmanship. With a stainless steel handle, this universal copper lid is very elegant.
Copper is the best conductor of heat. Professional chefs use it because of how quickly it cooks things. The inside of the pan is made of a double layer of stainless steel for optimum cooking.
Mauviel M150s Universal Lid is available in diameter 24cm and 28cm.
Wash the outside of your copper pan with a non-scratch sponge.
If you wish to use it on an induction hob, you will need to use Mauviel's induction interface disk. This sauté pan does not need to be retinned.
Packages are dispatched within 8 days in Europe and about 10 days outside Europe, after receipt of payment.
Shipping rates and taxes are automatically calculated based on the weight of the product and the shipping destination. For a collective purchase order, please contact us.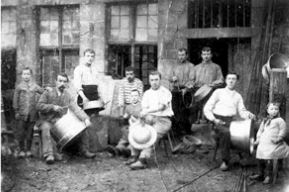 Mauviel began in 1830. For over 180 years, Mauviel has been developing their knowledge of professional cookware, and their products are prized by chefs working at the highest levels of fine dining. Find other products from this brand on our Mauviel page.
Mauviel is located in Villedieu-les-Poêles in Normandy.
Reviews
Click here to leave a review

SusanQ
04/10/2020
Mauve like universal lid
This was very useful when I needed to cover the chilli I was cooking. Very light and easy to use.

Steve
11/23/2019

02/19/2018
Great Experience!
The Mauviel Lid was a great purchase at a great price. Exactly as described and promptly shipped.