Mauviel M 150b Copper Lid
Mauviel M'150b copper lid, made in France.
The M'Heritage collection from Mauviel has a polished copper finish.
The M 150b lids have bronze handles.
Mauviel - French Design French Made
Mauviel's M 150b copper lids with bronze handles really are some of the finest items Mauviel produces. Copper is the best conductor of heat. Professional chefs use it because of how quickly it cooks things.
The M'Heritage M'150b copper lids are available in a range of sizes, from 12cm to 24cm in diameter.
Wash your copper lid with a non-scratch sponge. Never use bleach.
Mauviel cookware comes with a lifetime guarantee against any manufacturing faults.
The delivery time is under 8 days for Europe and about 10 days for other continents. Free delivery for countries close to France.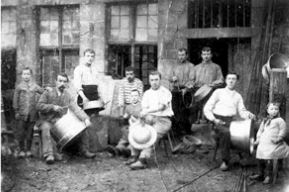 Mauviel began in 1830. For over 180 years, Mauviel has been developing their knowledge of professional cookware, and their products are prized by chefs working at the highest levels of fine dining. Find other products from this brand on our Mauviel page.
Mauviel is located in Villedieu-les-Poêles in Normandy.
Reviews
Click here to leave a review