Cristel Mutine Saucepan Set 3 with Removable Handles
Set of 3 Stainless-steel Cristel Saucepan with Removable Handle.
Mutine Collection by Cristel.
Cristel Design and Made in France.
Set of 3 Stainless-steel Cristel Saucepan with one handle -  Made in France by Cristel.
Last born of Cristel's Collections, Mutine is made of polished 18/10 stainless steel on a high-performance heat-diffusing base compatible with both gas and induction.
Set Cristel Mutine Saucepan diameter 16cm, 18cm and 20cm.
Handles are available in nine different colors.
CRISTEL Mutine Collection has the same feature as the Classic Collection.  Composed of 18/10 stainless steel body (18% nickel and 10% chrome) it has a mirror-polished finish.
These metals with complementary properties, distribute heat to an economical and flavoursome cooking that preserves all the nutritional qualities of food.
CRISTEL Mutine high-performance heat-diffusing base technologies guarantee an exceptional heat efficiency, even distribution of the heat throughout the product and maintains temperature while serving.
Cristel Mutine Collection has been awarded the Origine France Garantie label.
CRISTEL: French Design French Made. Manufactured in France.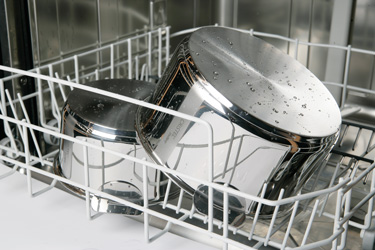 CRISTEL Casteline Mutine is dishwasher-friendly.
Packages are dispatched within 8 days in Europe and about 10 days outside Europe, after receipt of payment.
Shipping rates and taxes are automatically calculated based on the weight of the product and the shipping destination. For a collective purchase order, please contact us.
Cookware manufacturer and France's number one producer of cookware with removable handles and grips, CRISTEL story began life in France in 1849, when the first French pressed saucepan came out of Fesches-le-Châtel workshop and factory, the first CRISTEL production site. Quickly, the enamel branch gained in importance and the company became the second French industrial enterprise under the Second Empire. But in 1981, the manufacturer closed due to a succession of wars, political and economic transformations. Two years later, in 1983, former employees reopened the factory, first illegally then under a cooperative, and gave it a name: CRISTEL. The brand was born. In 1987, believing in the industry and in the factory true potential, Paul and Bernadette Dodane invested in the company and transformed it to a limited company. Their vision: to combine excellence, elegance, modernisation and innovation. Recognised now as a Living Heritage Company, CRISTEL offers a wide range of high-end luxury stainless steel products that are guaranteed for life and labelled « Origine France Garantie ».

Reviews
Click here to leave a review
A special stainless sponge that does not scratch. This sponge is sold in sets of 2. This sponge has copper chips for scouring without scratching. Delivery under 8 days.