Mauviel copper champagne bucket with stainless steel handle.
This champagne bowl is 15,7in in diameter. Free delivery is subject to below terms.
This Mauviel M'30 champagne bowl is made of copper, with two stainless steel handles.
With an Art Deco design inspired by the 1930s, this copper bowl is 15,7in in diameter and can fit up to six champagne bottles.
This champagne bowl is easy to care for, but abrasive sponges must not be used. Copper naturally develops a patina. You can use Copperbrill every so often to keep the copper shiny.
The delivery time is under 8 days for Europe and about 10 days for other continents. Delivery cost and taxes are according to the delivered country.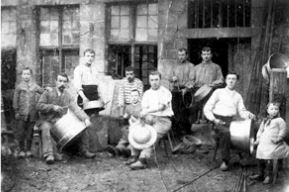 Mauviel began in 1830. For over 180 years, Mauviel has been developing their knowledge of professional cookware, and their products are prized by chefs working at the highest levels of fine dining. Find other products from this brand on our Mauviel page.
Mauviel is located in Villedieu-les-Poêles in Normandy.
Reviews
Click here to leave a review