Cristel stainless steel jam pot- 2 sizes
CRISTEL brand stainless steel jam maker
It is available in diameter 34cm or 40cm.
The Cristel jam maker is made of stainless steel. Its base is wide for better heat distribution and is suitable for all hobs and induction.
Designed to perfectly cook jams, it can also be used as a large pot to prepare convivial dishes such asmussels, cassoulet , a sauerkraut... for many guests.
It comes with a stainless steel rimmed glass lid.
The jam pan is available in the following dimensions:
Diameter 34cm / Bottom diameter: 24.50cm / Height: 19.50cm / Capacity 9 liters
Diameter 40cm / Bottom diameter: 29.20cm / Height: 22.50cm / Capacity 15 liters
You choose a CRISTEL product. The care taken throughout the manufacturing process will bring you all the satisfaction of a high quality product. The removable handle of this sauté pan allows for easier storage. Easy to clean with their stainless steel interior, these pans are suitable for the dishwasher.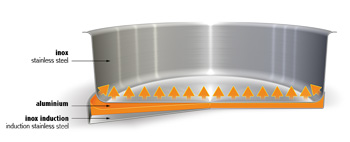 Delivery time : 8 days
Cookware manufacturer and France's number one producer of cookware with removable handles and grips, CRISTEL story began life in France in 1849, when the first French pressed saucepan came out of Fesches-le-Châtel workshop and factory, the first CRISTEL production site. Quickly, the enamel branch gained in importance and the company became the second French industrial enterprise under the Second Empire. But in 1981, the manufacturer closed due to a succession of wars, political and economic transformations. Two years later, in 1983, former employees reopened the factory, first illegally then under a cooperative, and gave it a name: CRISTEL. The brand was born. In 1987, believing in the industry and in the factory true potential, Paul and Bernadette Dodane invested in the company and transformed it to a limited company. Their vision: to combine excellence, elegance, modernisation and innovation. Recognised now as a Living Heritage Company, CRISTEL offers a wide range of high-end luxury stainless steel products that are guaranteed for life and labelled « Origine France Garantie ».
Aucune question n'a été posée pour le moment