The Craft collection is made in France by La Rochère .
The price indicated for 6 glasses corresponds to the packaging unit.
For conditions of delivery, please see below.
La Rochère Craft collection is available in coloured glasses and  pitchers.
With their authentic and chic design, Craft glasses and pitchers will brighten up any table.
This collection is both beautiful and delicate and is made of mouth-blown, mass-coloured crystalline glass. 
Various colours are available : red, orange, yellow, green, blue and transparent.
Dimensions are as follows :
Glasses (sold in sets of 6) : height 9,8 cm, width 8 cm, capacity 35cl.
Pitcher : height 26,4 cm, width 8,4 cm, capacity 100cl.
For these crystalline glasses and pitcher, hand washing is highly recommended.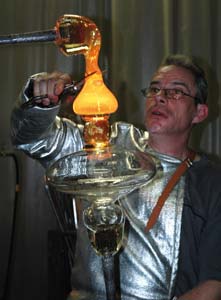 Packages are dispatched within 8 days in Europe and about 10 days outside Europe, after receipt of payment.
Shipping rates and taxes are automatically calculated based on the weight of the product and the shipping destination. For a collective purchase order, please contact us.
La Rochère is the oldest art glass factory in France. This glass factory has been making wine glasses in France on the borders of Lorraine and Franche Comté since 1475.
Reviews
Click here to leave a review
La Rochère Abeille bee design glasses, French-made.
The price shown is for 6 glasses, as the are sold in sets of 6.
Free delivery subject to the conditions below.
Modulo White 6 plates by Degrenne.
Collection of porcelain dinner and dessert plates.
For conditions of delivery, please see below.