Set of 4 Saga glasses made in France by La Rochère.
For conditions of delivery, please see below.
Saga long drink glasses are made in France by the famous glass factory La Rochère.
The Saga collection reinvents classic 19th century decoration.
Made of mechanical glass, known for its great resistance, Saga glasses are dishwasher safe. 
This set contains 4 long drink glasses with 4 différent decorations :
sequins, almond, blazons and pearls.
Each glass is 14,5cm high and 8,44cm in diameter for a capacity of 34,8cl.
La Rochère glass is dishwasher safe.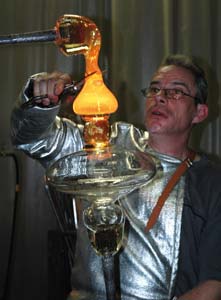 Packages are dispatched within 8 days in Europe and about 10 days outside Europe, after receipt of payment.
Shipping rates and taxes are automatically calculated based on the weight of the product and the shipping destination. For a collective purchase order, please contact us.
La Rochère est la plus ancienne verrerie d'Art de France. Cette verrerie fabrique en France des verre à vin aux confins de la Lorraine et de la Franche Comté depuis 1475.
Retrouvez l'ensemble de la collection de La Rochère.
Reviews
Click here to leave a review
La Rochère Amboise glasses, French-made.
Box of 6 La Rochère glasses
With a unique and highly crafted shape, the Pineapple pitcher is handmade in the workshops of the prestigious Manufacture of Digoin.
For conditions of delivery, please see below.