Haviland Plate in porcelain and platinum.
Florantine collection, made in France by Haviland.
Choose your own combination of plates and sizes.
Florentine is a French luxurious collection.
Haviland Plate in Limoges porcelain and platinum.
Florentine Collection is in French porcelain
- Dinner plate: 26cm
- Dessert plate: 22cm
- Small plate: 16cm
- Espresso cup: 8.5cl
- Coffee cup: 11cl
- Tea cup: 20cl.
Do not leave acidic foods or sauces on the plates after meals. Rinse them in hot water soon after meals, as otherwise the beauty and shine of the colours on your items may be affected. Avoid thermal shock caused by hot ovens or placing frozen items on hot plates.

This collection comes within 15 days directly from the factory. Delivery cost and duty free depend of the delivered country.
Haviland was founded in 1842 by David Haviland, who was fascinated by "Limousin's white gold".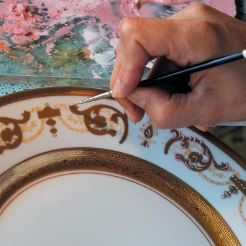 Haviland has been the world leader in porcelain for over a century and a half. It produces innovative shapes and decorations thanks to an incredible command of its equipment and a daring flair for business. Over the years, Haviland has been able to learn from the greatest ceramicists and artists, creating outstanding pieces that really show that porcelain tableware is an art form. A passion for art and luxury.
Reviews
Click here to leave a review