Haviland Porcelain Dinner Set
Haviland dinner set in Limoges porcelain and platinum.
Dinner plates, dessert plates, charger plates...
Sold by the unit, so you can build your own collection.
Limoges Porcelain, BRANDEBOURG is a luxiurius French Collection.
- Charger plate: 31cm
- Dinner plate: 28cm
- Dessert plate: 22cm
- Cake plate: 19cm
- Espresso cup: 7cl
- Coffee cup: 8cl
- Tea cup: 18cl
- Breakfast cup: 30cl.
Do not leave acidic foods or sauces on the plates after meals. Rinse them in hot water soon after meals, as otherwise the beauty and shine of the colours on your items may be affected. Avoid thermal shock caused by hot ovens or placing frozen items on hot plates.

This collection comes within 15 days directly from the factory. Delivery cost and duty free depend of the delivered country, that you will see after your registration.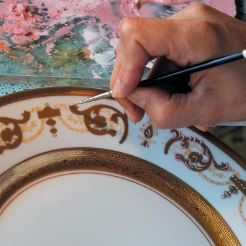 In 1842, David Haviland was fascinated by "Limousin's white gold" and left the United States for Limoges. With the help of his two sons, Charles-Edward and Théodore, the factory became known for creativity and exceptional craftsmanship. It has also had a big influence on tableware styles. Since that time, the Haviland name has become known throughout the world.
A limitless creativity for shapes and patterns, specialised equipment and an adventurous business approach has made Haviland the world leader in porcelain for over a century and a half.
Heads of state throughout the world eat off Haviland plates, and Michelin-starred restaurants use the company's tableware because of its charm and prestige.
Haviland, a passion for art and luxury.
Reviews
Click here to leave a review