La Madeleine Mazagran Planter
Glace chestnut-coloured glazed Mazagran planter, made in France by the Poterie de la Madeleine using traditional methods.
The Mazagran planter is available in small, medium or large.
If you wish to order the 46cm planter, you will need to order a minimum of 2 for transportation reasons.
Free delivery is available in mainland France.
This glazed Mazagran planter is made by hand using time-honoured methods by the Poterie de la Madeleine. Clay, water, time and passion are the key ingredients in this ancestral craft.
This glazed ceramic planter is a glace chestnut colour and is available in the following 3 sizes:
- height 46cm x diameter 38cm, weight 15kg
- height 63cm x diameter 55cm, weight 35kg
- height 95cm x diameter 73cm, weight 75kg
Each Mazagran planter is made artisanally, so there are slight variations in colours and finishes that mean each one is unique. Each piece is dated and signed by the potter.
Natural ceramic requires no special care. Simply wash it with water and a sponge.
The finish will develop a patina over time. In the winter, you should ensure your planter is protected from the weather and from frost. You can made it weatherproof using a water-repellent treatment, which will make it more frost-resistant.
This model is delivered within 15 days directly from French factory. Delivery cost and duty free depend of the delivered country, that you will see after your registration.
The Poterie de la Madeleine is situated on the Vase d'Anduze (Anduze Planter) trail, and has been awarded the Entreprise du Patrimoine Vivant (Living Heritage Company) mark in recognition of its craftsmanship.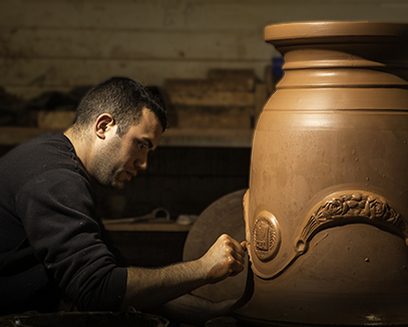 With over 4 centuries of experience, the Poterie de la Madeleine is a shining example of the French way of life, making Anduze planters of the highest quality, updated in modern colours. The Poterie de la Madeleine uses its wealth of craftsmanship to make magnificent contemporary Mazagran planters, glazed planters for fruit trees and earthenware plant pots.
Reviews
Click here to leave a review