French Designer Wall Lamp
Lucid wooden wall lamp, made in France.
Lina model, curved wood.
Optional 26W energy saving bulb.
This Lucid designer wall lamp is made in France. 
Shown here with a Grey Oak finish, this Lucid wall lamp is also available in Natural Oak, Brown Oak or Ebony Oak.
The Lina wall lamp has diffusing glass and an energy saving bulb can be ordered as an add-on. The wooden cladding is oak, stained grey. Made in an Art Deco style, this wall lamp has real character with its wooden exterior. This wall lamp will fit in perfectly in all sorts of spaces.
This model's dimensions are show below: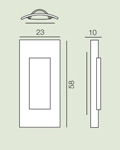 This model meets CE standard IP20. The wooden exterior of the Lucid Lina wall lamp has also
passed the 850°C incandescent bulb test. 
Energy saving lightbulbs can save you significant amounts.
G24d3 26W energy saving lightbulb available as an add-on. 
This model can be delivered within 6 to 8 weeks directly from French factory. Delivery cost and duty free depend of the delivered country, that you will see after your registration..
Lucid is a lighting brand from Atelier Sedap.
For over 40 years, the Atelier Sedap has found success in bringing together two opposing forces: 
- the past, as it draws on its unequalled expertise in high quality moulding and lighting,
- and the future, by choosing high performance innovation.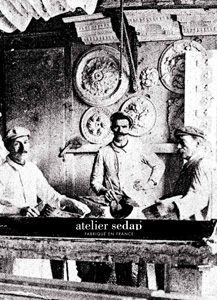 The research and creativity of Atelier Sedap has resulted in changing uses for plaster and a wider range of roles for the material in lighting.
Reviews
Click here to leave a review