Sedap Vanille Wall Lamp
This wall lamp from Ateliers Sedap is made from high strenght plaster.
This lamp has an E27 bulb cap.
110mm x  18.5mm.
Atelier Sedap - French Design, French Made
Art Deco Wall Lamp from Sedap in natural high strenght plaster. The quality of the plaster finish gives it a sophisticated, stylish look. 
This model's dimensions are show below: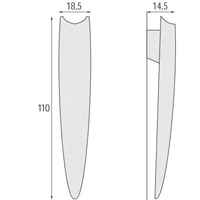 Reviews
Click here to leave a review