Treca Bastide Mattress by Christian Lacroix
The presitigious TRECA Bastide mattress is the result of a partnership with Christian Lacroix.
It has the Air Spring suspension technology. 
This mattress is 30cm thick and is definitely an exceptional and highly colourful mattress.  
This is a top of the range Treca mattress which combines all the know-how of the manufacturer.

For conditions of delivery, please see below.
Please contact our customer service for rates

The Tréca Bastide mattress  is a real exceptional product designed by Mr Christian Lacroix, the couturier of color.

This top of the range mattress has the Firm Air Spring suspension technology and is 30cm thick. Its padded 100% viscose top is embroidered with the name of the famous couturier Christian Lacroix. This is a very elegant limited edition. This mattress is made in France by Treca.
Its spring technology is progressive point  by point and proportional to the pressure exerted. It ensures perfect independence of sleep. The Bastide mattress is adapted to all morphologies. The spiral springs are connected in the width direction by spiral steel wires. Their resistance is exceptional.
Treca clearly establishes its position in the French luxury bedding industry with this partnership with Christian Lacroix.
The borders of the mattress give it a continuous aeration avoiding dust mites. It is undeformable and the filling of the top is swelling thanks to the use of noble materials such as cashmere and silk.
Its 100% viscose refined coutil gives it a very soft and elegant touch. Its top has a full padding that ensures a perfect inflate. Its finish is very neat.
To ensure softness and comfort, this mattress is covered with a mix of cashmere, linen and silk (100g/m²) on its winter side. This mix is lying on 2 Softcare foam layers of 2 and 3 cm. The set ensures a natural balance of very cozy thermoregulation.
On its summer side, the Bastide mattress has Softcare foam 1.5cm thick and a mix of cashmere, linen and silk (100g/m²).
The Treca mattress comes with a 10-year guarantee and is certified "Origine France Garantie".
The Bastide mattress dressed by Christian Lacroix is available in two lengths 1,90m or 2m for the following widths ;
- width 70cm, width 80cm, width 90cm

- width 100cm, width 110cm, width 120cm, width 130cm

- width 140cm, width 150cm

- width 160cm

- width 180cm

- width 200cm
On request from our customer service, we can offer the full set with :
- the Bastide mattress
- the upholstered bedspring covered with Treca/Lacroix upholstery and a height of 17cm.  It comes with black fine designed 15cm high 4-wooden feet
- the122 cm high Treca bedhead dressed by the French couturier with a height of 122 cm and a width between 140cm and 220cm. It is 8cm thick.
- the decorative cushions designed by Christian Lacroix
This mattress comes with a 5 year guarantee, Treca offers a guarantee extension up to 10 years on request with the Treca customer service.
Its aeration system is perfectly designed to remain healthy and dry. It has an enveloping comfort and 4 side handles to turn it.
This mattress is delivered and installed directly from manufacture within 15 days in metropolitan France.
Shipping rates and taxes for other destination are automatically calculated base on the weight of the product and the shipping destination.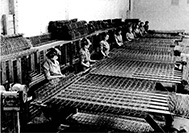 The history of Treca, the famous mattress manufacturer, dates back to 1935, in Reichshoffen. Treca is a spring mattress expert and the creator of the legendary Pullmann suspension. Treca is also appreciated and referenced by major hotels for the exceptional comfort and longevity of its bedding.
.
Reviews
Click here to leave a review