Flax Linen Curtain Charvet Bastide
Bastide eyelet curtain 100% FLAX linen by Charvet Editions.
This 100 % flax linen collection is made in France.
This 100% flax linen nickel eyelet curtain is part of the Bastide collection. Its thick weave (570g/cm3) gives your curtain a traditional look and a good robustness. Charvet Editions has been an expert in household linen for more than a century, Charvet Editions makes high quality elegant curtains created to last longer.
The Bastide curtain can be adapted to all kind of room as it is delivered with a fusible strip to adapt to the length of your windows. 
One unique size available 140 cm x 280 cm
The nickel eyelets gunmetal color have reinforced heads. 
The style of this curtain is rustic, its cloth is thick, resistant, like yesteryear linen.
The Bastide curtain is available in the following colors:
White
Natural
Steel
Mouss
Garnet
Indigo
Dark blue
Flax linen is a noble material. Using it in the composition is a natural and ecological choice. Its fibers are the strongest among vegetal fibers. It is a sensitive but also a very resistant fiber.
We recommend dry cleaning for your curtains
Iron when the curtain is still wet.
We devliver this curtain within 3 weeks.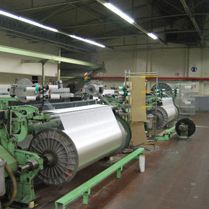 The CHARVET company has been based in Armentières (France) for more than a century. The city of Armentières is famous since the Middle Ages for its canvas making, here you can find the most beautiful linen sheets in cotton and flax linen. We invite your to discover all Charvet products CHARVET .
Reviews
Click here to leave a review