Terafeu Colour Salad Bowl
This Terafeu salad bowl is handmade in France.
This salad bowl is 36cm in diameter.
This Terafeu salad bowl is made from glazed ceramic and has a rich colour. The traditional Basque colours make this salad bowl a really eye-catching centrepiece. 
This salad bowl is 36cm in diameter, and is available in 8 colours. It is made in France from natural clay and glazed by hand. Clay is the best material for bringing out the flavours of food during cooking.
The sides are 10cm tall.
The Terafeu range is very resistant to thermal shocks. Terafeu cookware is made of ceramic glazed at 1100°C.
This product is dishwasher safe.
Packages are dispatched within 8 days in Europe and about 10 days outside Europe, after receipt of payment.
Shipping rates and taxes are automatically calculated based on the weight of the product and the shipping destination. For a collective purchase order, please contact us.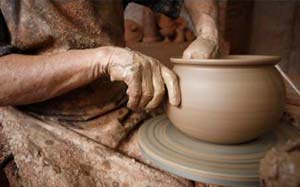 Terafeu is a specialist in making cookware from fire clay. This company have been experts in clay cookware since the beginning of 1990. This cookware is extremely resistant to thermal shock.
Reviews
Click here to leave a review