Simmons box bed
It is designed to optimize the storage of the room.
For conditions of delivery, please see below.
The Simmons box beds, made in France, is the best you can find on the bedding market. Simmons has succeeded in combining performance and quality. 
The box beds are equipped with a storage space to discreetly maximize the storage in the room, ideal for bed linen, duvet, pillows, etc... When designing this box bed, Simmons has deployed many means. Indeed, this box bed has a reinforced metal base with 660 pocket springs for the 160x200cm model.
The Tript'Air coutil covers the top, a technology used by the manufacturer which is an internal network of micro air cushions, The top is is covered with upholstery fabric.  Inside the box bed, 8 hydraulic cylinders have been installed to ease the opening and closing of the box. The bottom is 16 mm thick and in black laminated wood. Maintained by 6 high central black resin 5cm-high feet, the box bed also comes with corner feet and wooden handles in wenge colour.  
To make your life easier, Simmons has thought of everything, the 8 hydraulic  cylinders to help you lift the bed base safely thanks to their mecanisms. The mattress on the bed base will not move thanks to the 2 steel stops which are positioned at head level and covered with fabric. 
The bedspring has 4 air vents to optimize air renewal and thus keep your bedding freshly stored in the box.
The height is 37cm.
The Simmons  box beds come with a 2-year guarantee.
The box bed is available in 4 dimensions:
- 90x200 with a single top (storage volume : 450 L)
- 140x190 with a single top (storage volume: 665 L)
- 160x200 with a double top (storage volume : 800 L)
- 180x200 with a double top (storage volume : 900 L)
This box bed is available in 2 colors :
- Blue velvet
- Grey
The headboard corresponding to the box bed is also available by contacting our customer service department.
This box bed can be washed with water and soap, no solvents.
We deliver this sofa within 6 weeks directly from factory.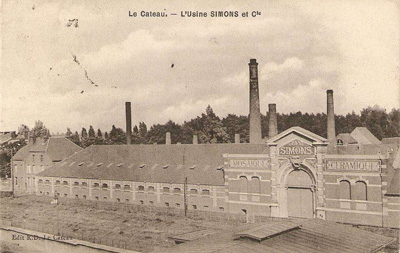 Simmons know-how dates back to 1879. Inventor of the pocketed spring, this firm located in the North of France knew how to perpetuate its know-how in mattress and bedsprings manufacturing. Simmons is an expert concerning raw material choice, spring manufacturing in order to make premium quality mattresses.
.
Reviews
Click here to leave a review