Porcelain Single-Flower Vase Haviland
The single-flower vase of the Sugi collection is made of porcelain by Haviland.

These vases are made in Limoges (France).
This single-flower vases are extremely smart and have contemporary lines. With a pure white and pure lines, these silhouettes are very elegant. These vases are delivered with an exotic wooden base designed by Haviland. The 5 vases are magnetized to the base to ensure stability and security.

Thanks to their name and style, the Sugi vases evoke nature and Japan. These vases will make you travel to the land of the rising sun.
Because of Haviland traditional know-how and the beauty of this object, it is a real product of exception. It does not leave anybody indifferent.

These 5 vases have different sizes in order to keep the harmony:

1 25cm high vase

3 30cm high vases


1 40 cm high vase
.
This white porcelain collection is very resistant. It has to be cleaned with a sponge and dishwashing liquid.
This collection comes within 15 days directly from the factory. Delivery cost and duty free depend of the delivered country, that you will see after your registration.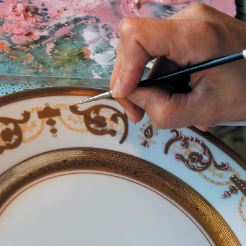 In 1842, David Haviland was fascinated by "Limousin's white gold" and left the United States for Limoges. With the help of his two sons, Charles-Edward and Théodore, the factory became known for creativity and exceptional craftsmanship. It has also had a big influence on tableware styles. Since that time, the Haviland name has become known throughout the world.
A limitless creativity for shapes and patterns, specialised equipment and an adventurous business approach has made Haviland the world leader in porcelain for over a century and a half.
Heads of state throughout the world eat off Haviland plates, and Michelin-starred restaurants use the company's tableware because of its charm and prestige.
Haviland, a passion for art and luxury.
Reviews
Click here to leave a review