Duvet pack Pyrenex Montreal Duo
Duvet packs Montreal Duo by Pyrenex are made in France.
Feather and down filling comes from Southwestern France. 
Everybody has once thought that his duvet was sometimes too thick, sometimes not thick enough, adopting more or less crazy techniques to try to cool or warm up. Today, you do not have to worry anymore, Pyrenex meets all your needs by creating 4 season Duvet Packs.
The Montreal Duo 4 season packs are marvels of adaptability and composed of 2 distinct duvets which can be paired with the dedicated push buttons. In case of high heat or extreme cold, you just have to add or remove a duvet.  You can adapt the temperature when you sleep for a better comfort. 
Duvets are filled with 90% down and 10% little feathers. The filling comes from Southwestern France and these are 100% French duvets. 
The duvet cover is made of satin fabric 150 threads/cm2, 100% white combed cotton, with a grey satin piping. The canvas is so dense that it is a natural barrier to dust mites. 
These packs exist in 3 different versions
- 2 summer duvets (Pack Duo 200)
- 1 summer duvet + 1 tempered duvet (Pack Duo 250)
- 2 tempered duvets (Pack Duo 300)
Légend 1859 is the Pyrenex label which identifies the most prestigious duvet range. The Montreal duvet is Pyrenex high level range and will bring you entire satisfaction. 
Depending on the duvet version selected, the thickness will be different. 
A summer duvet is dense up to 100g/m2 and a tempered duvet up to 150g/m2.
The density difference can go from 200 to 300g/m2.
These duvets have a 5-year guarantee for the filling.  
Packs are available in the following dimensions:
- 140 cm x 200 cm
- 200 cm x 200 cm
- 240 cm x 220 cm
- 260 cm x 240 cm
- 280 cm x 240 cm
- 300 cm x 300 cm
The 4 season duvet packs have been approved Belle Literie, they respect a specification and are guaranteed of very high quality. 
Still in the labels and other distinctions, the Montreal Duo duvets are labeled OEKO TEX and pledge not to have used any substance during the manufacturing process that could harm the health.
These duvets are machine washable at 40°C, we recommend to shake them regularly in fresh air and to reverse up and down at least once a month.
The choice of the filling depends on the way you heat your room. Therefore, between 15° à 18°, we recommend a 250 à 300g/m² duvet, and above 18°, a 200 to 250g/m² tempered duvet.
We deliver this item within 15 days in Europe and 3 weeks outisde.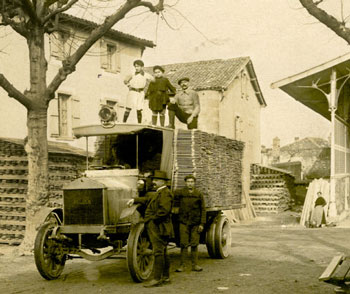 Pyrenex masters the natural duvet manufacture and has been elaborating goose and duck down since 1859.
Reviews
Click here to leave a review