Duvivier Chambon Mattress
The Duvivier Chambon mattress is made in France.
This model offers soft comfort.
Delivery is free under the conditions below.
The Chambon mattress by Duvivier is made in France. It has a height of 30 cm with a tonic welcome as well as a morphological comfort.
Its high density suspension made up of pocket springs (1408 springs in the dimension 160x200 cm) will provide you with perfect sleeping independence with 5 different comfort zones for optimal recovery.
Its sleeping side is made of a suspension filled with latex gel and high resilience foam (35kg/m3). In the filling, you will find Natureva foam, silk and hypoallergenic thermo-bonded polyester wadding.
The sleeping side of the Duvivier Chambon mattress is permanent thanks to the No Flip system. You will no longer need to turn your mattress every season so you will protect your back.
The underside is lined with thermo-bonded felt and comfort foam.
This mattress has 5 horizontal Duvivier embroidered handles, including one on the front. You will also find 2 Duvivier Air System aerators on the side faces of the Chambon mattress to guarantee optimal ventilation throughout the year to keep your mattress dry and healthy.
A Eurotop finish and a 100% Polyester ticking complete this mattress.
The Duvivier Chambon mattress is guaranteed for 7 years.
Its dimensions are as follows :
- 80x190 cm
- 80x200 cm
- 90x190 cm
- 90x200 cm
- 120x190 cm
- 130x190 cm
- 140x190 cm
- 140x200 cm
- 160x200 cm
- 180x200 cm
- 200x200 cm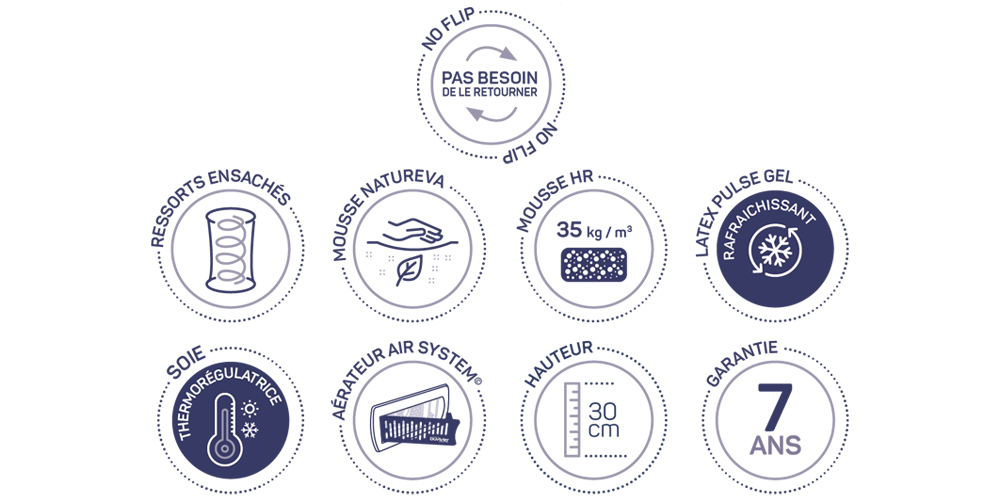 1) Permanent sleeping side
4) Thermo-bonded felt and comfort foam
5) Duvivier Air System aerator
This bedding set comes with a 5-year guarantee.
After receipt of payment, packages are dispatched within 3 weeks in Europe and outside Europe, the information will come from the customer service.
Shipping rates and taxes are automatically calculated based on the weight of the product and the shipping destination. For a collective purchase order, please contact us.

Duvivier's know-how dates back to 1928. This company has known how to perpetuate its know-how which is famous among professionals in the manufacture of high-quality mattresses and bedsprings. This company integrated advanced technologies into its Vendée and Poitou Charente factories. Duvivier perfectly masters the choice of raw materials, conception which is based on a long tradition, manufacture in compliance with all the standards and obligations. Always focused on the satisfaction of their customers, Duvivier is a leading manufacturer with its excellence range of mattresses and bedsprings.
Reviews
Click here to leave a review