Simmons Millesime Mattress and Bedspring
This mattress and bedspring set Millésime 2021 edition is made in France by the famous brand SIMMONS.
Thanks to its 26 cm high and its firm support, you will be surprised by its enveloping welcome.
This premium quality set is a limited and numbered edition.
For conditions of delivery, please see below.
The Millesime 2022 edition mattress + bedsdpring set created by the French manufacturer expert Simmons benefits from all the know-how of this famous brand which uses a patented technology developed in its workshops.
The mattress :
It is composed of 100% pocket springs manufactured in France in the manufacturer's workshops. The Simmons Millesime mattress offers a unique comfort that adapts to all types of morphology. Each spring is independent, you can move without waking your partner. Thanks to the Sensoft Evolution technology which gives to the Millesime mattress its specific shape, you benefit from an optimal sleeping comfort which limits the micro-awakenings and help you sleep incredibly well.
It is available in the following sizes :
90 x 190 cm
90 x 200 cm
120 x 190 cm
140 x 190 cm
140 x 200 cm
160 x 200 cm
Mattress 160 cm and bedspring 2x80x200 cm
Mattress 180 cm and bedspring 2x90x200 cm
With the Millésime set, there is no need to turn the mattress every season: the 2 faces of the mattress have a sleeping function adapted to all seasons and a micro-aerated 3D coutil that allows a constant ventilation between the mattress and the bedspring.
The mattress is made of linen, a naturally ventilated and breathable fabric that absorbs humidity for a sensation of well-being all night long.
Its high resilience foam is created to adapt gradually to the shape of your body: your spine is perfectly supported during all night. This foam is anti-moisture, anti-bacterial and hypoallergenic, it allows a perfect ventilation of your mattress Millésime.
For an healthier mattress, Simmons integrates a 350g/m² wadding which allows rapid moisture wicking for greater hygiene. This material increases the quality of your sleep and optimizes the temperature variation of your body.
It also integrates a 400g/m² layer of linen, a noble and natural material, which brings freshness and regulates the temperature.
All fabrics used by Simmons benefit from the Oeko-Tex label which certifies the non-toxicity of fabrics and dyes for the body and the environment.
For this exceptional model, Simmons offers on request the Certified GOTS (Global Organics Textil Standard) Organic Cotton Coutil option. This certification guarantees all steps of textile processing: raw fiber extracted from the organic farming field and transformation process that respects environmental and social criteria. This option is to choose on the mattress or the bedspring when ordering. In collaboration with a Breton start-up company, Ecotree, Simmons is committed to planting a tree for every organic set purchased.
caractéristique matelas simmons millesimes
The bedspring:
It is made in France, in saint-Amand-Les-Eaux and benefit from the most stringent quality controls.
The wood of the Millesime 2022 bedspring comes from forests that are equitably managed.
The box is made of massive fir, premium quality.
13 multi-layered slats covered (for the model 140 x 200 cm)
Backdrop in black non-woven.
Quilted beds.
Height 17 cm.
Bedspring to complete with a set of 4 feet to be chosen among the Simmons collection.
This mattress comes with a 5-year guarantee.  
For a perfect environment, we recommend you ventilate the room daily.
For daily protection, it is better to use a mattress cover.
Packages are dispatched within 3 weeks in Europe and on request outside Europe, after receipt of payment, directly from factory.

Shipping rates and taxes are automatically calculated based on the weight of the product and the shipping destination. For a collective purchase order, please contact us.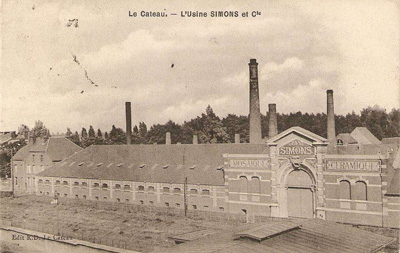 Simmons know-how dates back to 1879. Inventor of the pocketed spring, this firm located in the North of France knew how to perpetuate its know-how in mattress and bedsprings manufacturing. Simmons is an expert concerning raw material choice, spring manufacturing in order to make premium quality mattresses.
.
Reviews
Click here to leave a review