Treca Imperial Symbiose Mattress
This premium quality ligne imperial TRECA mattress has the exceptional Air Spring Suspension technology.
This mattress is 32cm thick.
Please contact our custome service for rates.

For conditions of delivery, please see below.
The Imperial Symbiose Treca mattress is equipped with the Air Spring suspension technology. This suspension brings a perfect support to all body types and comes in mid firm, firm or very firm.  Each spring reacts individually to the pressure exerted and can adapt to all sleeping position and ensure sleeping independence. It is very soft and welcoming thanks to the natural Talalay.

In the Treca Imperial line, the Symbiose mattress symbolizes the association of the best manufacturing technologies. This is the most top of the range model. Its upper part is padded integrally by hand, and it will maintain the filling for a very long time. 
For dimensions superior to 160x200cm, this mattress also has a metal frame which guarantees its no-deformability.
The firmness is the result of the Treca experience, which perfectly maintains the spring section and the alloying of the steel. 
Regarding the lining, it has a winter side and a summer side.
Its winter side is equipped with a 3.8cm natural Talalay layer, Mohair wool 1kg/m² (from the angora goat). The wool is an excellent thermoregulator for your nights. 
The talalay will bring an incomparable comfort.
Its summer side also has a 3.8cm of natural Talalay as well as a 800g/m² mixture of linen and silk. 

For your well being, your sleep is essential. The Treca Imperial Air Spring mattress will help you have a restorative and recuperatice sleep.
The 4 aerators on the sides ensure excellent air circulation in the mattress for perfect hygiene. 
For a Treca signature finish, the mattress has horizontal embroidered handles with a TOP05V and JNB08 coutil (100% viscose).
The Imperial Symbiose mattress is available in the following dimensions:
- width 90cm x length 190 cm
- width 90cmx length 200 cm

-

width 140cm x

length 190 cm

-

width 140cm x

length

200 cm

-

width160cm x

length 200 cm

-

width 180cm x

length 200 cm

-

width 200cm x

length 200 cm
This mattress comes with a 5 year guarantee, Treca offers a guarantee extension up to 10 years on request with the Treca customer service.
Its aeration system is perfectly designed to remain healthy and dry. It has an enveloping comfort and 4 side handles to turn it.
This mattress is delivered and installed directly from manufacture within 15 days in metropolitan France.
Shipping rates and taxes for other destination are automatically calculated base on the weight of the product and the shipping destination.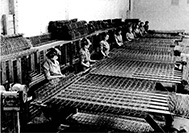 The history of Treca, the famous mattress manufacturer, dates back to 1935, in Reichshoffen. Treca is a spring mattress expert and the creator of the legendary Pullmann suspension. Treca is also appreciated and referenced by major hotels for the exceptional comfort and longevity of its bedding.
.
Reviews
Click here to leave a review