The Nuage mattress is designed by Treca, which is the high end in French bedding. This mattress is made in France. 
This mattress has the Air Spring technology which is a pocket springs technology and ensures eveloping comfort.
To get the rates, please contact our customer service.
The Nuage mattress from the Air du Temps collection by Treca is a famous model of bedding Art.
Thanks to the Air Spring technology, the support is very firm. This Air Spring suspension, made of 20/10th springs, ensures you exceptional comfort. This support is progressive, harmonious and offers a perfect sleeping independence. With an exceptional finish, this mattress was designed in a spirit of exceptional comfort.
Its airflow borders and strap frame (for dimensions superior to 160x200cm) allow a strengthening of the seat area with a maximum airflow. It is the guarantee of a perfect support.
With its 28cm height, this mattress is firm and it has 2 sides. One winter side with a 1.5cm Softcare soft foam and a 5cm memory foam (1cm sewed in the main part) which  relieves pressure points and reduce back pains in any position. The summer side is equipped with the Outlast technology which offers perfect bedding thermoregulation by storing the heat and redistributing it when it's cold, thus avoiding micro-cuts caused by night shivering or sweat when you sleep.
Its airflow borders allow a strengthening of the seat area with a maximum airflow. Airflow is a key element, it keeps its hygienic integrity by evacuating moisture. Moreover, this mattress has 4 vents that provide excellent aeration and a perfect hygiene for your mattress.
In order to move the mattress easily, it has 5 horizontal embroidered handles, 4 with the brand name and 1 with the model name.
The mattress ticking ATM18 of the Nuage mattress is composed of 65% polyester and 35% Viscose, whereas the strick strip ATB18 is 100% polyester. Ticking is premium quality.
The Nuage mattress comes with a 5 year guarantee and an Origin France Label.
You can choose between two lengths: 190 cm and 200 cm.
This mattress is available in the following widths:
- 70 cm

- 80 cm

- 90 cm

- 100 cm

- 110 cm

- 120 cm

- 130 cm

- 140 cm

- 150 cm

- 160 cm

- 180 cm

- 200 cm
This mattress comes with a 5 year guarantee, Treca offers a guarantee extension up to 10 years on request with the Treca customer service.
Its aeration system is perfectly designed to remain healthy and dry. It has an enveloping comfort and 4 side handles to turn it.
This mattress is delivered and installed directly from manufacture within 15 days in metropolitan France.
Shipping rates and taxes for other destination are automatically calculated base on the weight of the product and the shipping destination.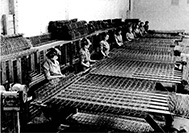 The history of Treca, the famous mattress manufacturer, dates back to 1935, in Reichshoffen. Treca is a spring mattress expert and the creator of the legendary Pullmann suspension. Treca is also appreciated and referenced by major hotels for the exceptional comfort and longevity of its bedding.
.
Reviews
Click here to leave a review