Oak Chevron Console Table Dasras
Chevron oak console table made in France in the Dasras workshops.
This console table is available in three widths.
For conditions of delivery, please see below.
Created by the French manufacturer Dasras, the Chevron console table in oak has been designed by the French designer Guillaume Delvigne. 
This is a very beautiful piece of decoration, that is available in several models and can be integrated in a lobby, a bedroom or in a living room. Made of solid oak, it is resistant and very elegant.
The central beam and the base are made of solid wood.
The top of the console table is your choice:

- ceramic 3mm glued to 19 mm mdf with solid backing
- laminate top glued to 22mm mdf with solid backing
You can choose the width of your console table
: 100cm, 120cm or 140cm.
It is 90 cm high and 40 cm deep. 
For the Chevron console table, other versions are available in beech or walnut. Please contact our customer service if you need any further information.
Several ceramic and oak finishes are available: When ordering please write the name and finish/es you would like in the "comment" section.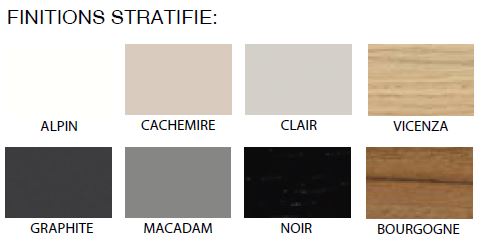 The Chevron table desk is also available in beech or US walnut. If you have any further questions, please contact our customer service.
To clean and care for your solid wood table, choose a natural wood care product.

Packages are dispatched within 4 to 6 weeks in Europe and on request outside Europe, after receipt of payment.
Shipping rates and taxes are automatically calculated based on the weight of the product and the shipping destination. For a collective purchase order, please contact us.
At Dasras, woodworking has been a family activity for 5 generations.
Specialized in interior design projects, from conception to manufacturing, Dasras today provides professionals in the communities, real estate and hotel industry. This mastered creativity is a pledge of quality for those who have already granted their confidence.
All Dasras furniture are 100% made in France, with a team of designers implicated in the search for new shapes and styles. To perpetuate the know-how and get the best quality are key values for this company.
Reviews
Click here to leave a review