This slatted bed base by Treca is made in France.
It has a thickness of 17 cm.
For information about the prices, please contact our customer service.
The Treca slatted bed base of 17 cm thick is made in France. This bed base is perfectly adapted to Treca mattresses such as Pullman or Air Spring.
It comes with 4 wooden feet. You can choose other feet from our customer service.
This bed base has a solid wood frame and uncovered slats for more firmness.
The bands of the bed base are padded to match the mattress.
The Treca slatted bed base is available in the following dimensions:
Width 90cm x length 190cm
Width 90cm x length 200cm
Width 140cm x length 190cm
Width 140cm x length 200cm
Width 160cm x length 200cm
Width 180cm x length 200cm
Width 2x80cm x length 200cm (Duo bed base assembly with a matching flange provided for this dimension).
This bed base is treated against mites and bacterias. It is equipped with threaded inserts to screw the feet easily.
Shipping rates and taxes for other destination are automatically calculated base on the weight of the product and the shipping destination.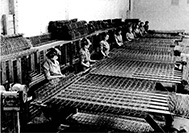 The history of Treca, the famous mattress manufacturer, dates back to 1935, in Reichshoffen. Treca is a spring mattress expert and the creator of the legendary Pullmann suspension. Treca is also appreciated and referenced by major hotels for the exceptional comfort and longevity of its bedding.
Reviews
Click here to leave a review