This architectural wall lamp is made of high definition plaster.
This model is proposed in two versions: halogen or LED.
It is 41cm high.
For conditions of delivery, please see below.
This wall lamp has a double light source which provides both direct and indirect lighting. This product is made of plaster and it has several advantages. Indeed, plaster has anti-abrasive and hygrometric regulations properties. With a smart and streamlined design, it also has health and environmental safety advantages.
You can choose between two finishes: acrylic or metallic on request with our customer service.
This model is available in the following dimensions:
This model has an index of protection 20 and a CE marking.
Characteristics :
-Halogen : P. maxi : 2 X 50 W GU10 - 230V.
- LED : P. maxi : 2 X 50 W GU10 - 230V
Packages are dispatched within 8 days in Europe and about 10 days outside Europe, after receipt of payment.
Shipping rates and taxes are automatically calculated based on the weight of the product and the shipping destination. For a collective purchase order, please contact us.
For more than 40 years, Atelier Sedap has been successfuly combining time:
- the past, it has a huge experience in high quality molding and lighting,
- the future, he chooses the most performing innovations.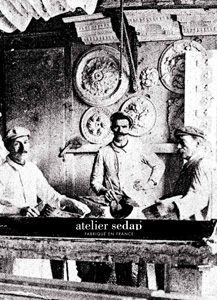 The research and creativity of the Atelier Sedap have made it possible to change the usages of plaster and multiply its applications in lighting.
Reviews
Click here to leave a review